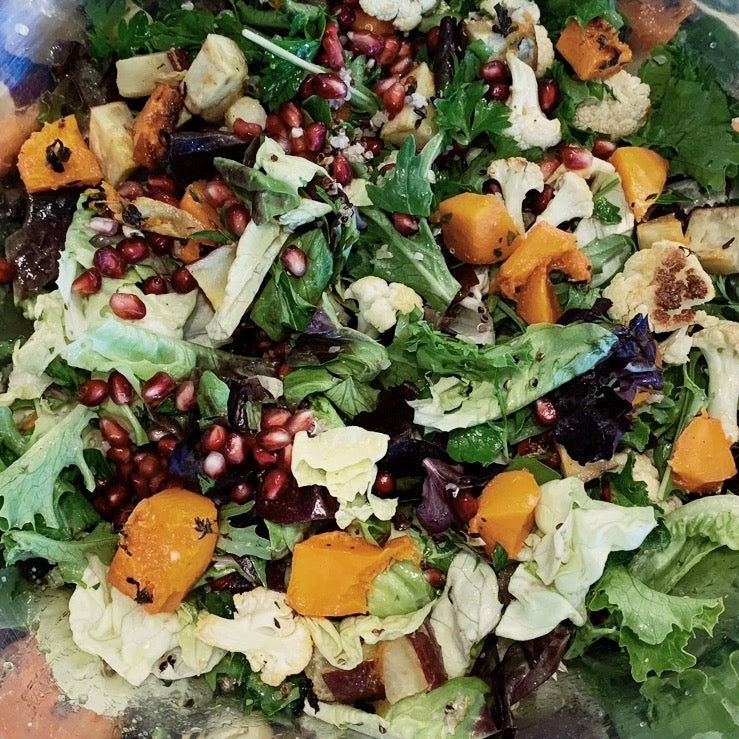 Ashley here. I am so excited to share this recipe with you today! It's one of my go-to staple meals, loved by the whole family and packed full of nutrients and flavor. If you're looking for a healthy, delicious, plant-based meal, look no further.

I invented this recipe, when I was strapped for time and needed to rustle up a quick dinner for everyone. I didn't have time to go to the grocery store, so I knew I
would have to make do with what I had in the fridge and pantry - butternut
squash, cauliflower, and sweet potato. I pondered about whipping up a veggie plate, but knew it would leave the family hungry. Hungry children at 8 PM? No way! I had to get creative.

My children love pomegranates and had been snacking on them after school, which gave me some major inspiration. Combining the sweetness of pomegranate with the savory density of some starchy veggies - that was the winner for me. 

This recipe is nourishing and satiating at the same time!
INGREDIENTS:
Mixed Lettuce
Butter Lettuce or Spinach (You Pick!)
Cauliflower
Pomegranates
Butternut Squash
Purple Japanese Sweet Potato
Quinoa
Thyme
Oregano
Garlic
Shallot
Lemon
Honey
Parsley
Olive Oil
Apple Cider Vinegar
Salt
Pepper

As you can see from the ingredient list, this recipe is packed to the brim with nutrients and vitamins. I recommend buying all organic produce to ensure you're avoiding all herbicides and pesticides, which can cause a range of health concerns. 

NOT JUST TASTY, BUT ALSO BENEFICIAL 

All hail the pomegranate! One cup of pomegranates provides a massive amount of vitamins:
Vitamin C: 30% of the RDI
Vitamin K: 36% of the RDI
Folate: 16% of the RDI
Potassium: 12% of the RDI

Pomegranates contain compounds known as punicalagins, which are extremely powerful antioxidants. Antioxidants work in the body to reduce oxidative stress and inflammation, to counteract DNA damage to ensure your body is staying healthy and fighting disease.


FIBER FOR THE WIN! 

Fiber is one of the most important nutrients out there. It's responsible for regulating your digestion to flush out toxins and undigested food. It bulks up your stools to keep you regular, feeds the bacteria in your gut, and helps you to feel full after a meal. This recipe is highin fiber content, due to the ingredients below:
Cauliflower
Japanese Sweet Potato
Pomegranates
Butternut Squash
Quinoa
Onion (Prebiotic Fiber)
Garlic (Prebiotic Fiber)

Despite being low in calories, this recipe will surely leave you satisfied, but not over stuffed. Best of all, it's a great option if you're looking for a healthy dinner idea with the staples you might already have available in your kitchen.

LET'S MAKE IT!
Salad:
1 Bag of Organic Mixed Lettuce 
1 Bag of Organic Butter Lettuce or Spinach
1 Head of Organic Cauliflower
1 Cup of Organic Pomegranates
2 Cups of Organic Butternut Squash
2 Cups of Purple Japanese Sweet Potato
1 Cup of quinoa
4 Twigs of Fresh Thyme Chopped
4 Twigs Fresh Oregano Chopped
Dressing:
3 Garlic Cloves
1 Shallot
Juice of 1 Lemon
1 Teaspoon of Honey
2 Twigs of Thyme Finely Chopped
½ Cup of Flat Italian Parsley Finely Chopped
½ Cup of Olive Oil
1 Teaspoon of Apple Cider Vinegar
Salt and Pepper to Taste
How to Cook
Heat your oven to 350 degrees.
Rinse the quinoa and refer to package directions for cooking. Cook quinoa and set aside.
Wash and chop butternut squash, sweet potato, and head of cauliflower.
Place the vegetables in a bowl, add olive oil, chopped up thyme and parsley. Add salt and pepper. Mix well and spread these on top of foil on a cookie sheet. Roast at 350 degrees for about 25-30 minutes.
Halfway through, check on the vegetables and stir them so they will not burn, put them back in to roast. Double check the potatoes and butternut squash, they may need longer than the cauliflower.
Mix all ingredients for dressing together in a measuring cup or bowl. Whisk thoroughly.
In a large bowl, add both types of lettuce and place your quinoa on top of lettuce. Add your roasted veggies to the quinoa and pomegranates on top.
Your family and guests will love all these flavors this summer season!